In celebration of the last day before heading back to work tomorrow to begin 2010 projects - I packed a fun filled day today with my mum. Bit of cultural visiting, strolling about, pampering and shopping....all in one day.
My mum wanted to see the current V&A exhibition
Maharaja - The Splendour of India's Royal Courts
so we zipped on over there in the morning. In honour of much anticipated dazzling jewellery pieces in the exhibition, I wore these 2 necklaces from Accessorize.
..they don't quite compare to the exhibition objects, but I felt I had dressed for the part. ; D Check this hefty exhibition object out!: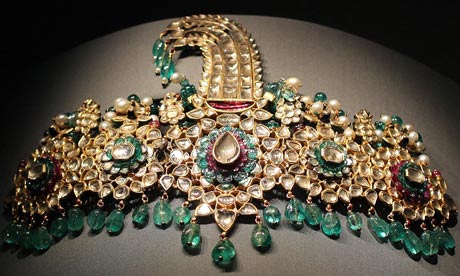 The ones I got were ones from the Accessorize sale because I thought they looked Olivia Palermo-ish (aka from The City) though I don't for one second resemble her at all - in the looks, style or money stakes! But I think they work together, which I was quite surprised at as I don't tend to layer necklaces. I kept everything else free - so no earrings, bracelets or rings. Especially as after the exhibition, my mum and I went to the nail salon and I went for red manicure polish (which by the way, I am loving, I chose Essie Pepperoni np). I also got this pearl/diamante choker at Accessorize:
I do love that shop, especially so at sale time. You can update your wardrobe simply with a piece of jewellery. After the manicure, I popped into MAC to get Hue l/s as part of B2M, but also a back up of 2N l/g, Relaxed shadestick AND I also picked up Nurture shadestick from the Warm & Cozy collection. Yes, I did. Oops.
The V&A exhibition ends on 17 January so there isn't much time left, it was a fine exhibition, but I was a bit disappointed because I think there was much more that could have been made of the exhibition theme - especially the 'splendour' - as there were only a few choice pieces. And I would have liked a bit more of a story or background to the royal families that were featured. It kind of left me feeling a bit shortchanged. Come to think of it, whether it's a new exhibition, film or the latest makeup product - snazzy titles and marketing does wonders eh? : p
But the best thing about today was spending time with my mum, cause I haven't been that great at it in the past but it's something I am working on ; D
Back to work tomorrow.................